At last!
You guys don't EVEN know how I squirm when I don't have Gold Star's Top Bar Hive kits on hand for next day shipping... it's just the kind of thing that keeps me up at night.
It has been a challenging path getting to a reliable situation with new hive kits since moving Gold Star Honeybees to North Carolina. But we've got 'em in stock now! And we're really excited about them, so we want to show you!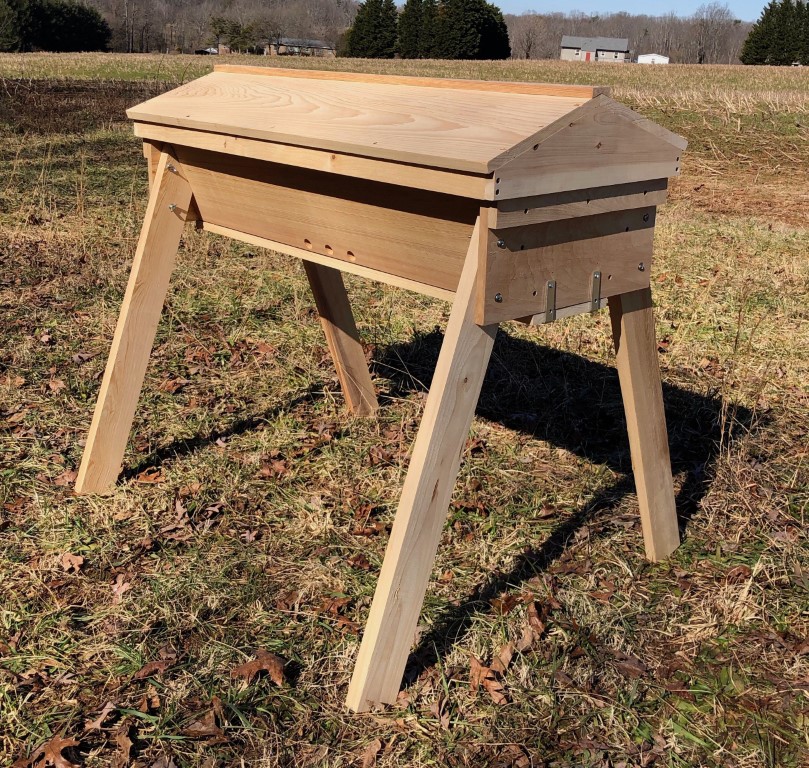 The hive bodies, roofs, and legs are now made out of long-lasting cypress. Cypress is one of those wonderful "lasts forever" woods. Great for the wood-to-planet contact involved in beekeeping! And all of the cypress used in the Gold Star top bar hive was harvested within 400 miles of home. You just can't beat it for sustainable forestry!

Our top bars continue to be made out of beautiful poplar, an Appalachian Hardwood. We love the way each bar is a little different - and the color ranges from white to tan to green to purple. Who knew!?
We really love it that our work with bees isn't a detriment to our nation's forests. In fact, lumber from the Appalachian region (the mountain between Georgia and New York) is growing at more than twice the rate it is being harvested (or dying of old age!) Our wood supplier, W.M. Cramer Lumber, is an Appalachian Hardwood Verified Sustainable manufacturer. That makes us proud AND happy.
Our observation window is (still) made of glass, just like always. Glass is great stuff - it's endlessly recyclable, and it never, ever warps. It doesn't off-gas like plexiglass, and it's not nearly so fragile as you might think. In ten years of shipping the Gold Star hive, less than 1 window per year has ever gotten broken (though that's not necessarily thanks to the gentle hands of UPS...) We install the window with Safecoat non-toxic caulk – which is very, very strong stuff!
Our roofs, as you may have heard, are light enough to eliminate the need for hinging the roof. (Hinging the roof makes the hive top heavy and it COULD fall over – VERY bad for your bees!)
We would like to re-introduce to you
The Gold Star Top Bar Hive
made of sustainable, long-lasting (and beautiful!) cypress.