Speaking
Tedx Dirigo

Making the Connection: Honeybees, Food, and You
TEDx Dirigo
Published on Oct 21, 2011

As the founder of Gold Star Honeybees, Christy Hemenway is working to reintegrate honeybees and organic agriculture. The movement toward small, organic, local, diversified farms creates a ripe environment for this. Gold Star Honeybees' signature top bar bee hive supports the honey bees' natural systems - especially the making of their own beeswax honeycomb - and supports the beekeeper by being an easy-to-manage hive system. Hemenway offers classes and workshops across the country to teach new beekeepers about stewarding bees. She makes very clear the connection between bees and our food system, the health of the planet, and our own long-term health.

______________________________________________________________________________________________________
Dr. Lisa, Radio & Podcast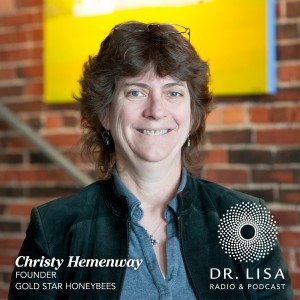 "As a doctor, I can't tell you how often I recommend people use natural, organic, locally produced honey from local honeybees as a means of staving off allergies and promoting good health. I, myself, use honey pretty much every morning, so I understand the importance of having good bees because without good bees, we wouldn't have good honey.
But what do the bees have to teach us? Much more than we realize. These insects, which pollinate the plants that feed us, are offering important information about the impact of humans upon the environment. Bees are also used increasingly in healing therapies. Today, we speak with Christy Hemenway and Dr. Theo Cherbuliez, and explore what the bees have to teach us."
Bees #132 - Christy talk with Dr. Lisa
READ the transcript of the show.