Thinking Beekeeper Educational Series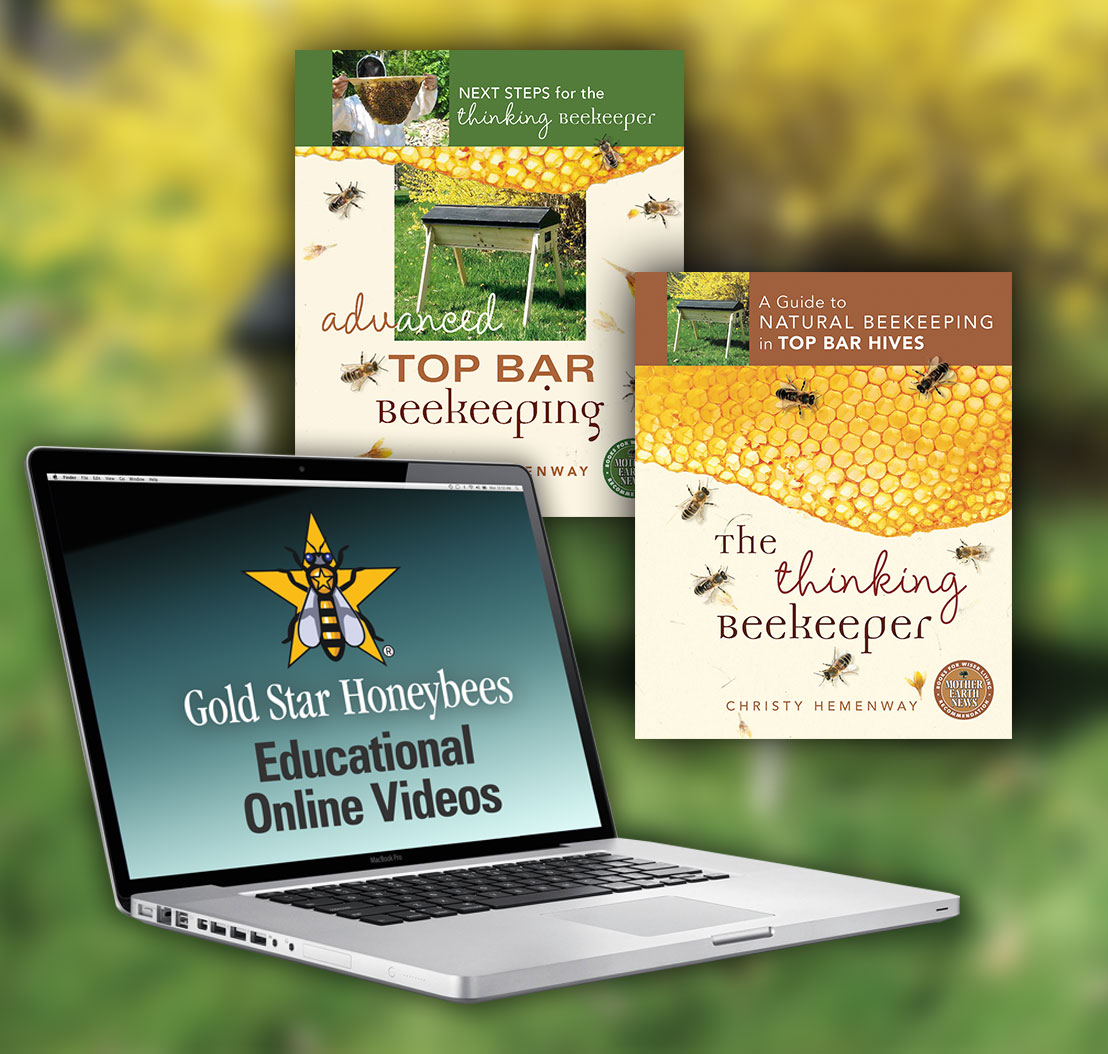 The Thinking Beekeeper Educational Series is a complete and comprehensive educational package about the keeping of bees in top bar hives. The series consists of two books and an online class.

The books:
1) The Thinking Beekeeper - A Guide to Natural Beekeeping in Top Bar Hives

2) Advanced Top Bar Beekeeping - Next Steps for the Thinking Beekeeper.
The class:
The online class is a compact version of the Live Weekend Intensive class taught by Christy Hemenway. (Read the details about the live class here.)
These resources, taken together, provide a good foundation for a beginner in the art of top bar beekeeping.
A seasoned Langstroth beekeeper wanting to know more about the workings of top bar hives will find it helpful as well. Written with your beekeeping confidence as its goal - we think you will find the information in the Thinking Beekeeper Series both valuable and informative.

Kind words we've heard about The Thinking Beekeeper books:

"...you'll find information you need here that's not available anywhere else. Both you and your bees will benefit from Christy's approach, adivice and philosophy."
- Kim Flottum, Editor of Bee Culture Magazine
"Until very recently there has been a dearth of books specific to top bar beekeeping and to natural beekeeping.If you have an interest in either or both, this is a book you will enjoy. Christy has named it well. It is a thoughtful book that gives you more than just a formula. Real beekeeping is an art and art requires thinking and understanding and judgement rather than rules and time tables. In the end, of course, this is acquired through experience but Christy lays a good groundwork of understanding while at the same time giving detailed practical advice.
It is clear that she has much experience at answering beginner's questions as she anticipated them so well. I love her concise, efficient, yet eloquent use of language and logic. A very useful book that, because of her style, is also very pleasant to read."
- Michael Bush (of bushfarms.com)
Nice things people have said about the Weekend Intensive Class:
"I have been thinking about what it is that makes Christy's class different than other teachings that are available to beekeepers and top bar hive beekeepers:The class is not only about keeping bees in top bar hives, it is also about bees. What I mean is that it is completely comprehensive. Anyone can Google around for months on end and never find all the information that is included in the class. It is soup to nuts on keeping bees and keeping them in top bar hives. She is an engaging and entertaining teacher building a community of like minded beekeepers who can grow together in experience and in support of one another."
- Suzanne Brewer

"I just attended Christy's Weekend Intensive bee class and found it to be a perfect introduction to the fine art of bee keeping. Christy's style lends itself to a class full of exploration into the fascinating life of the honey bee. I learned how important this insect is to sustaining our agricultural and natural systems and how imperiled they are by the same practices that have brought industrial agriculture to the unsustainable place it now occupies.
I cannot recommend strongly enough the importance and outright fun that this class can deliver. I have signed up for a top bar hive as a result and can hardly wait to roll down my sleeves and become a member of the bee keeping world. If you have ever thought that you might want to know more about tending wild bees and are looking for a perspective that draws the best from age-old practices and explores the newest methodologies of organic bee keeping, this is the class for you. Enjoy!"
- Des FitzGerald